Consultancy
Agricultural consultancy is provided by our specialist on any topic the customer requires.

Agrotrip cooperates with 200 Israeli specialists in various areas of expertise. Here we present the mini-bios of three of our experts, to give you an example of their level of professional knowledge and experience:

Mr. Arie Volk
Agribusiness development consultant: planning, construction and management of agricultural projects. Arie has consulted to companies and organizations in Israel and in developing countries in Eastern Europe and Central Asia: Russia, Kazakhstan, Azerbaijan, and Ukraine. In Africa: Angola, Nigeria, Ghana, Benin, Cameroon, Madagascar and Ethiopia. In South and Central America: Argentina, Peru, Panama, Brazil and Mexico. In Asia: China, Cambodia, Indonesia.


Dr. Amnon Lichter
Amnon is a researcher at the Post-Harvest and Storage Department of the Volcani Agriculture R&D Center. The department's research activities cover topics related to the post-harvest life of fruits, vegetables, and ornamentals. Amnon specializes in exploration technologies for grapes both post-harvest and during storage, as well as in sanitation technologies of cooling rooms.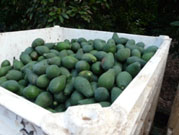 Mr. Amatzia Eyal
BSc, MSc Animal Science, adviser on animal nutrition. He provides private consultation services on animal nutrition, and specializes in poultry nutrition in medium feed mills, in Gderot, Assam Hagalil, Keffar Yehoshua
See also: