Dairy Farming in Israel
for KCC farmes, Kenya
April 25 - May 3, 2015

This 9 days program was designed especially for Kenyan farmers. Its main target is to expose educated farmers to advanced Dairy farming technologies that may increase farm income by boosting livestock productivity. The program was included a visit to Agritech Exhibition in Tel-Aviv http://www.agritech.org.il/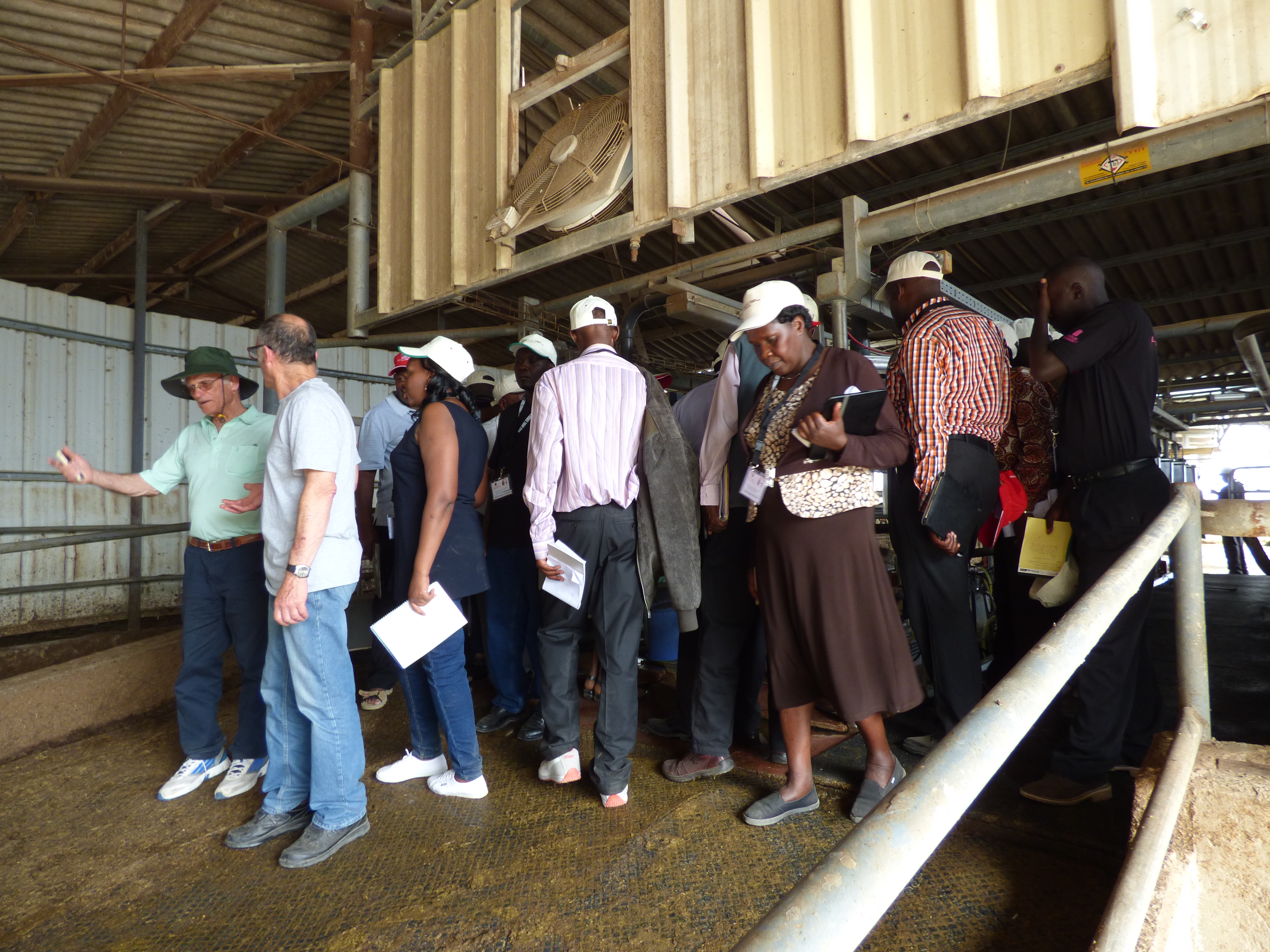 Lectures:

> Cow behavior
> Vet care: disease prevention, udder health and fertility management
> Feeding and nutrition of Dairy cows

Study tours:

> Growing silage for cows nutrition
Visit to wheat and corn fields; explanations on corn varieties and drip irrigation system maintenance are given by supervising farm manager
> Moshav - visit in a small excellent dairy farm.
"Moshav" family-farms has 200 milking cows/farm, producing ~43% of the national quota.
> Strauss Dairy Achihud
Danona, Activia, Milky, SkI and Gamadim are among the milk products we will taste while visiting the Strauss Dairy factory near Karmiel in the Galilee area
>Afimilk - Animal Health Monitoring
Modern dairies view the individual cow as a "production unit". This approach demands close observation of animal health and welfare. The Afimilk system provides a full range of data, which helps farm managers follow their animals, monitor and even predict health problems.
We will be visiting Cooperative Dairy farm at Kibbutz Afikim.
> Feed Mill - Givat Yoav Feed Center manufactures and supplies T.M.R. (Total Mixed Ration) for dairy cows, dry cows and heifers.
> Cattle-raising in the Golan Heights
An excellent cattle-raising in the Golan Heights, where Brahama, Hereford, Sharol'e and Simntal are some of the imported breeds raised. Here, hybrid species were developed and adapted to Israeli conditions. The growth in beef cattle-raising in Israel is still relatively small compared to that of dairy cattle. This is due mainly to low fresh beef consumption and limited grazing area.
> Fertility management – Sion Israel
Visit in the farm with insemination expert - demonstration of Heifers insemination and explanations about the Israeli method.
> Organic Dairy Farm
Visit to Kibbutz "Harduf" in Galilee area - a cooperative organic Dairy farm.


Hisrorical sites tours

> Jerusalem
>
Nazareth and Sea of Galilee
>
The Dead Sea
>
Tel-Aviv