Livestock Ranching in Israel
May 6-13, 2020

Introduction
The smart and sensitive management of livestock ranching ensures the stock's welfare, and ultimately, the farm's profitability. Animal welfare is closely related to the health maintenance of all types of agricultural animals, not just cows, sheep and goats. Proper animal welfare positively effects growth processes and increases food productivity.
The most important issue in any country's livestock ranching industry is food quality assurance. Israel's veterinary services monitor chemical residues in animal products through a year-round national sample survey. The survey examines the presence of residual veterinary drug residues, pesticides and environmental contaminants in animal products (poultry, beef, pork, milk, eggs and fish).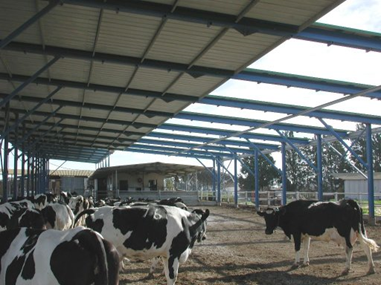 Global food costs are constantly changing. During the last three years in Israel, food prices rose 5.5 times more than in Europe, according to a comparative survey by the government research and information center for the Economic Affairs Committee. In Israel, food costs increased an average of 12.7% during that period, compared to an average price hike of 2.2% in Europe. A relatively small difference was found regarding dairy products, as the costs of dairies went up by 25%, while consumer prices rose by 30%.
This program was designed especially for Ugandan farmers. Its main target is to expose educated farmers to advanced animal farming technologies that may increase farm income by boosting livestock productivity.
Daily Schedule
Day 1
Arrival, free day
Day 2
Jerusalem
historical sites
Opening session
Day 3
Study Tour:
Excellent Family Dairy Farm
Moshav family-farms usually have 50-100 milking cows. We will meet the owner of the farm, which produces electricity with a solar energy system.
Ambar Feed Mill, Israel's largest feed-mill enterprise, is run in compliance with the world's most advanced manufacturing methods and regulations. Ambar Feed Center manufactures and supplies T.M.R. (Total Mixed Ration) for all types of ruminants – dairy cows, dry cows, beef cattle, heifers, goats and sheep.
Lunch
Raising Small Ruminants in Semi-Arid Area
Whether there is too much or too little goat grazing in an area, it can damage the ecosystem. Farmers may grow goats in pasture and produce quality cheese using simple technologies. Marketing these foods as organic home-made products can provide substantial income to the small family farm.
Day 4
Morning Lecture
Heat Stress Relief Technology
Israel's climate is considered "subtropical dry", and is characterized by warm and dry summer with day temperatures above 30C and relative humidity ranging from 50% to 90%. Climatic limitations motivated dairy farmers to develop and implement new technologies and management practices that would enable high milk production and reproduction in summer. The cooling system commonly used in Israel is based on a combination of frequent direct watering, followed by forced-air ventilation.
Lunch
Afternoon Lecture:
Poultry Farming and Egg Production
Layers' weight, laying periods, nutrition and total egg mass will be discussed in this lecture.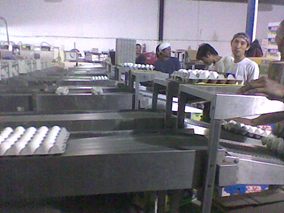 Day 5
Study Tours:
Afimilk - Animal Health Monitoring
Modern dairies view the individual cow as a "production unit". This approach demands close observation of animal health and welfare. The afimilk system provides a full range of data, which helps farm managers follow their animals, monitor and even predict health problems.
Yardenit – the Baptismal site on the Jordan river

http://www.yardenit.com/
Lunch
Kibbutz Fish Farm
This fish farm includes ​​790 hectares of fish ponds. Carp and tilapia takes are intensively produced in earth ponds. Ornamental fish in crowded tanks and advanced breeding technologies will be discussed in the study Tour.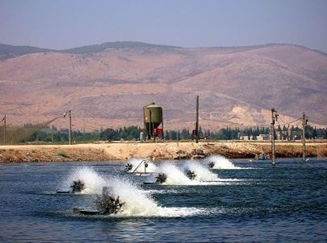 Day 6
Study Tours:
Neve-Yaar (Volcani Center) R&D institute and Kibbutz Gal-Ed Herd
This excellent, leading herd has served as a model for cattle-raising in the Golan Heights, where Brahama, Hereford, Sharol'e and Simntal are some of the imported breeds raised. Here, hybrid species were developed and adapted to Israeli conditions. The growth in beef cattle-raising in Israel is still relatively small compared to that of dairy cattle. This is due mainly to low fresh beef consumption and limited grazing area.
Lunch
Strauss Dairy Achihud
Danona, Activia, Milky, SkI and Gamadim are among the milk products we will taste while visiting the Strauss Dairy factory near Karmiel in the Galilee area.
Day 7
Morning Lecture:
Hachaklait Clinical Veterinary Services
Hahakalit is a non-profit organization owned and managed by the farmers for their own benefit. The organization seeks to give clients excellent veterinary service at a reasonable cost.
Lunch
Afternoon Lecture:
Feeding and Nutrition of the High Producing Dairy Cow
Most dairy farms use TMR as the sole feeding system for milk cows, dry cows, heifers and baby calves. TMRs are produced at "on-farm" feed centers or are purchased from "nearby" feed centers (0-250 km), some according to client specification and formulation.
Closing Discussion
Day 8
Free day in
Tel-Aviv
Departure
** This schedule is subject to change according to decisions of the program director.