June, 2018

Hi, Nirit,

Taking the opportunity let me thank you for your hospitality and wish you to come to Armenia in the nearest future.

Thanks and best,


Karen Harutyunyan


********************************************

Kaplan Barak- Ginosar farm manager, from Israel, August 2015

Shalom Nirit,
I want to thank you for your professional service, kind and good willing.
For me, you were answering all my expectations; you helped me taking care of my Indian team visit in a productive and efficient way.The chairman of Kapil Agro farm India Pvt Hyderabad, SRI.VAMAN RAO, was satisfied.
In short, I would be happy to cooperate with Agrotrip Israel in the future.
See you soon,

************************************



John D Pallangyo, from Tanzania, February 2014



"Hello Nirit!

It was pleasure to be with you as our guide during our two days of Agricultural tour in Israel. We learnt a lot during the tour and the exposure to the precise and high tech farming has enormously added value to our dreams. Tomorrow we'll set off for the pilgrimage tour and we will on the 19/2 set off for our journey back home.
We once again say thanks for your kind cooperation.

Kind regards"

***********************************



Jens Ole Christiansen, owner of Bovi Consult, from Slovak republic, March 2014



"The group of farmers and advisers are now back in Denmark, filled up with a lot of experience from a beautiful country and strong and warm-hearted inhabitants. Everybody was very satisfied with the organization of the tour, and was very satisfied with the visits, and cultural stops between the "cow visits" and the very good service in airport at arrival and departure."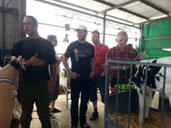 Gagik Sardaryan, CARD -
Yerevan, Armenia, October 2013
"Years ago I started developing links between different agriculture players in Armenia and Israeli institutions, sources of technical assistance and service providers. As a result, I was able to send several groups to Israel for trainings and learning visits which Nirit organized for us. We also visited the nice Arava Agricultural Exhibition.
As an Agribusiness and Rural Development organization, we started to import small scale greenhouses from Israel, for farmers in Armenia to improve food productivity in the winter time."